---
Adopt a Cat > Mango and Pushi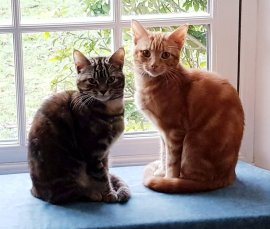 Can live with other cats:
No
Can live with children:
Yes
Pushi and Mango
and a delightful pair of cats, who are very friendly and sociable. They are both lap cats and Mango enjoys sitting on your shoulder while you walk around doing your jobs! He likes exploring outdoors and is a hunter. Pushi rolls at your feet, asking for attention. They are devoted to each other and will make a welcome addition to any family.
If Pushi and Mango could be just what you're looking for please register online or call us on 01189 722082 / 01189 721871